O&O DiskImage 11 for Windows Server 2016 Released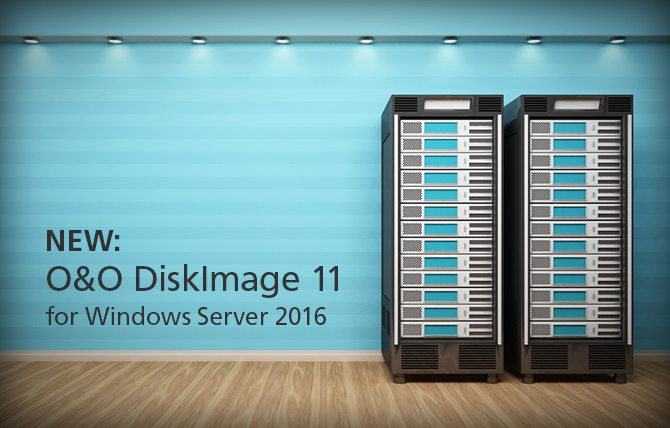 The new version 11 of our Backup and Recovery program O&O DiskImage is out today in the server and workstation editions! With O&O DiskImage entire computers, servers, single drives and files can be backed up during running operations. By restoring such these backups, a company has their normal and familiar working environment back again in a very short space of time. O&O DiskImage is compatible with both conventional hard disks and SSDs.
It sadly happens every day: malicious software enters a business network and infects most if not all machines, then systematically destroys data. Often the attack is noticed too late, so that the data is lost forever. Would you like to have to ask your customers or suppliers again for their data? And at the same time be forced to confess that you were sadly not careful enough with use of their data? This is certainly not what your business partners want to hear, and they would justifiably reconsider their relationship with you, or simply terminate it. O&O DiskImage provides the appropriate mechanisms to restore individual files or entire systems in an instant.
What's new?
New: Full support for Windows Server 2016!
New: Command line function
New: Brand new user interface with improved operability
New: Improved support of variable DPI settings
New: Improved support of high contrast mode
New: Command line function
Enhanced: Live Update function
Enhanced: Backup and imaging speed
Support for Windows Server 2016
O&O DiskImage 11 already supports the newly released Windows Server 2016 operating system. With this we cement our reputation as a cutting edge, Microsoft Gold Partner and customers can immediately image, backup and restore their data on the brand new operating system.
New Command Line
The new O&O DiskImage 11 new Command Line Interpreter makes it even easier to run batch jobs for automating product features in your business environment. This feature adds to the already impressive array of functions that every administrator needs to secure and restore confidential business data.
Quick and easy system restore – even onto different hardware
Restoring an image with O&O DiskImage is as easy as pie: all you have to do is start the program, select the image you want to restore, and you're off. Included with the software is our machine independent restoration which means your old backup can be transferred 1:1 onto a new machine. Hardware of a different make will be automatically recognized and Windows settings will be carried out by themselves.
Get O&O DiskImage 11 now to protect your company against all eventualities!