NEW: O&O DeskInfo 1.1.1338! Now with sliding window display, unknown USB warning and more!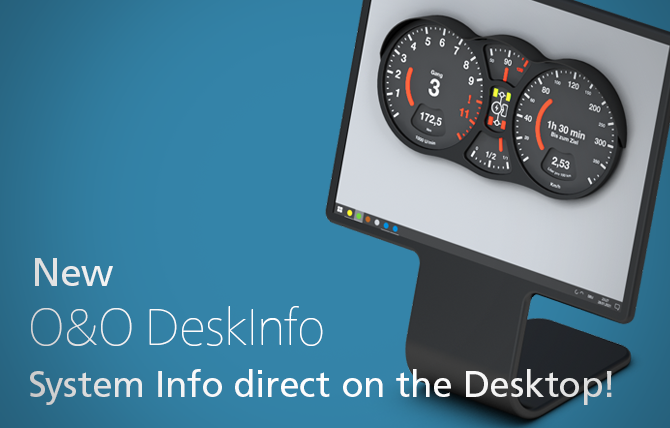 With O&O DeskInfo you always have all the relevant system information at a glance, right on your desktop!
No need to search anymore
CPU, RAM, drives, network…with O&O DeskInfo you always have all the relevant system information at a glance, right on your desktop! You can also customize the ad yourself to just see exactly what you are interested in! Whether CPU or memory usage or network information – everything is presented in a compact and understandable way.
Ideal for Support and Remote Assistance
O&O DeskInfo is ideal for support issues or remote assistance. If you ever need important system information for a support request, with O&O DeskInfo you simply save all data and information to the clipboard via the context menu in the info area. You can then easily send this information to your Admin or Support contact, either by email or via a web form! And if you are receiving or carrying out remote support, all the information you normally have to search for is right there on the Desktop.
Display the Information exactly how you wish
If you would prefer O&O DeskInfo to be somewhere else on the desktop, or in a different font or colour, then you can simply adapt how and where it is displayed from the context menu. You can even choose the which monitor it should be shown on – if you have more than one!
New in Version 1.1.1338:
NEW: Display is now a sliding window on the screen edge
NEW: Warnings when connecting unknown USB devices
NEW: Separate display for removable drives
NEW: Display of drive activity for local and removable drives
NEW: Pause activity tracking
NEW: The display can optionally always be shown in the foreground
NEW: Adjustments for displays under Windows 11
FIX: Fixed display of High-DPI ads
FIX: The language is automatically adapted to the system setting at startup
Extension of the output for the clipboard
Revision of the entire user interface
Restructuring and expansion of the context menu

Available in English, German and French.
Download now – no install, no crapware
Download O&O DeskInfo free from our Website. O&O DeskInfo is entirely free (freeware) and does not have to be installed – it can be simply run directly and immediately on your PC (portable). And it will not install or download retrospectively unwanted or unnecessary software, like so many other programs do these days!