"Every machine should have a black box": O&O Defrag 17
After a year of development work, the time has finally come: the new O&O Defrag 17 is now available! With O&O Defrag 17 we have taken another technological leap forward with new and unique innovations. We realize that times are changing, and with it the needs of users, but one thing is still clear: When using any device that contains hard disks, no matter how modern or how old – Windows fragments the data. This leads to slower systems and a shorter hardware life – fact!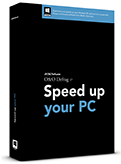 With just a small investment to maintain and protect your computer and data, you can avoid all of that.
World's first: Deletion of free disk space for more privacy
Our latest version of O&O Defrag can also be used for deleting free space on hard disks. This prevents traces of confidential data left over from partially-deleted or temporary files from falling into the hands of any strangers. This also means that with O&O Defrag you not only increase the productivity and speed of your systems but also guarantee your data security – all from one program. We are the only manufacturer to have this professional-grade secure deletion function integrated into the program. Data protection is our priority!
Further new features
Optimization of systems with Thin Provisioning.

 For the first time, O&O Defrag 17 can now optimize the actual memory allocation for virtual machines and SANs. This technology further strengthens our support for the ever more popular Virtual and SAN IT environments and gives customers the chance to optimize even more of their IT activities.


Optimization of SSDs using TRIM.  

In O&O Defrag 17 we have widened support and compatibility for the TRIM functions for SSDs even further and now present the user with the familiar analysis and control functions they have with hard disks too.

Completely revambed user interface. 

In order to make one-click PC maintenance possible and to integrate the new functions into O&O Defrag we have completely revamped the interface. Using O&O Defrag is now clearer, simpler and quicker than ever before.
16 years of Made in Germany, Made in Berlin.
Over 16 years of experience in the development of O&O Defrag play an important role here of course. And we still develop all of our products right here in Berlin. This has changed a lot in the past few years elsewhere. More and more manufacturers are starting to buy products from around the world and then giving them their name. No one knows anymore what's really happening inside these products. That is not our approach, and that is why are all products that bear the name O&O were also developed by O&O.
Try or buy O&O Defrag
Visit our website or send us an e-mail to sales@oo-software.comand we will help you get your PCs and servers running like new again with O&O Defrag 17!