Stifter-helfen.de awards O&O Software With IT Donor Title!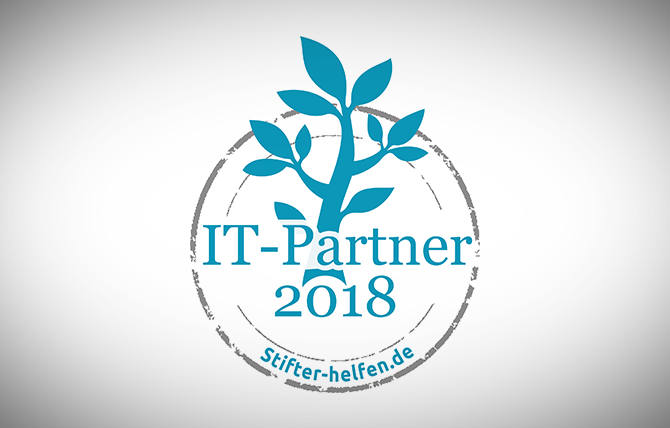 Once again this year, the IT donation portal "Stifter-helfen.de – IT for Non-Profits" honors O&O Software with the title "IT-Partner 2018".
Stifter-helfen.de has been providing IT companies donating their products for charitable purposes since October 2008 and non-profit organizations from all over Germany. In order to support the work of the non-profit organizations, they receive access to the software and hardware donations of the named manufacturers on the portal. Currently, more than 300 products are available as IT donations for non-profit organizations.
With this title, Stifter-helfen.de honors companies that make their software available to non-profit companies free of charge. Since 2010, O&O Software GmbH has successfully participated with their product "O&O Business Suite" and was thus able to make a lasting contribution to enabling non-profit organizations to better concentrate on their actual work rather than struggling to raise funds for IT purposes.
Technology Donation: O&O Business Suite
The O&O Business Suite includes licenses for nearly all O&O products for complete system and data management, making it easy to deploy and with a unified management of desktop and server systems. The software solutions contained in the O&O Business Suite secure and save data. In addition, they support the administrator in maintaining and managing networks, especially smaller ones, and in increasing machine performance.
With these donations, O&O Software targets non-profit organizations whose main mission is social and welfare care, public health, education, culture, nature and sports. Eligible organizations can receive two product donations per calendar year for up to 50 workplaces each.
About Stifter-helfen
The IT donation portal "Stifter-helfen.de – IT for non-profits" is operated by the Munich Haus des Stiftens gemeinnützige GmbH in cooperation with the US non-governmental organization TechSoup Global. The internet platform www.stifter-helfen.de has existed in Germany since October 2008. Since its inception, more than 57,000 Non-profit organizations have registered and benefit from their offerings. For non-profit organizations interested in obtaining donor software outside of the DACH region, please visit the TechSoup Global website for full details on how to register.