New Update! Remote IT Monitoring with O&O Syspectr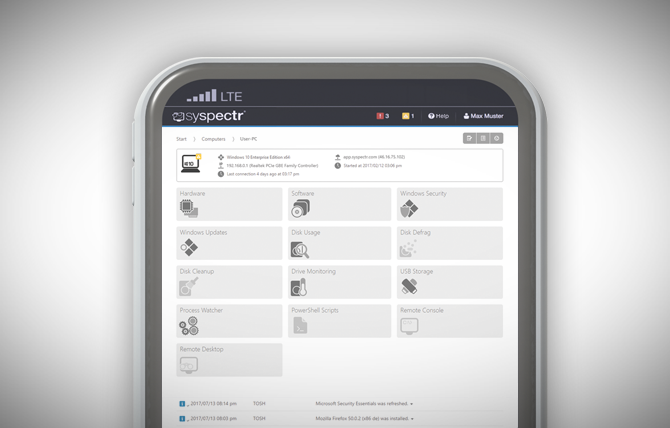 O&O Syspectr O&O Syspectr gives you a complete overview of your entire Windows infrastructure. With an easy to use web application, you can track all the events in real time. You will be notified immediately over your dashboard or by e-mail when something dangerous or out of the ordinary strange happens.
O&O Syspectr monitors your Windows systems behind the scenes and keeps you constantly informed of any possible problems. This can include anything from installation of new software, the permanent monitoring of Windows Security, or notification of failed updates. O&O Syspectr can also let you know everytime a USB disk is being connected and gives you the power to stop this from happening. At the press of a button you can avoid potentially malicious software or prevent important documents from being removed.
After a long period of development, we're now happy to release the new O&O Syspectr Service. It contains not only a large number of improvements, but extensions and preparations for future features as well!
Now new in O&O Syspectr:
New: The image repetition rate and quality of image transfer can now be selected in the Remote Desktop
New: Hardware recognition has been extended in the Hardware module
New: XEN virtualizations will now be taken into consideration
New: O&O Defrag 20.5 is now supported
New: Only the agent will be installed when using O&O Defrag, and no longer the entire program environment with user interface
Fix: A domain firewall will also be correctly treated on non-domain computers
Fix: Installation on a Hyper-V computer will now be correctly recognized
Fix: Changes to the subscriptions will no longer result in frequent error notices
Fix: An MTP device connected to a USB port will no longer be displayed as unlocked in the USB module
Fix: Installation of drivers during a Windows update has been corrected
Various minor bug fixes and fine-tuning (e.g. errors in transcription)
Numerous modules and functions
O&O Syspectr doesn't just monitor, it also provides active assistance: the integrated Remote Desktop allows you to help your users directly on their PCs whenever the need arises. The only thing you need is an active browser and an end device with an internet connection. In addition we have further modules in the pipeline. O&O Syspectr can be used on any Windows System from Vista and Windows 2008 Server as well as on virtual machines.
O&O Syspectr offers a simple yet powerful user interface that can be used in any browser and on any device. Wherever you are in the world, you have access to this information for your machines and can take corrective action if needed! Why not try it yourself free for 30 days!