O&O DiskImage 16: How to create your very own Recovery Partition.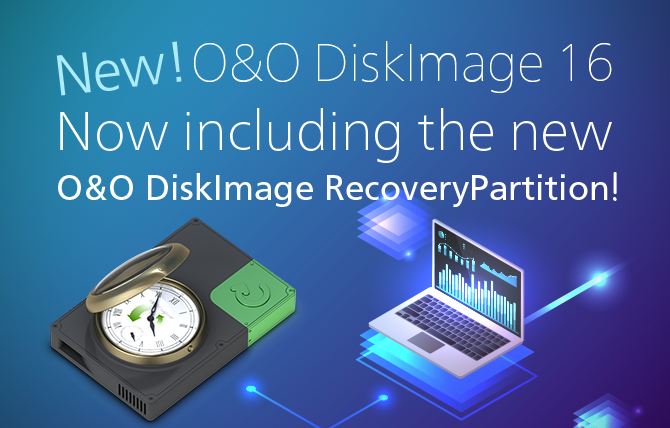 A regular backup is still something that many users prefer to avoid. At least that is until they suffer their first loss of important files as a result of software, hardware or user error: that's when it becomes crystal clear just how valuable a reliable and up-to-date backup really is! The new version 16 of O&O DiskImage now lets you create a recovery partition that you have on your PC should disaster strike.
The O&O DiskImage RecoveryPartition
Normally with a backup or imaging program you need to create a boot medium (CD, USB) to boot up your system if something goes awry. This you have to either carry around or store somewhere safe in case disaster strikes. Thanks to the integration into the system, the O&O DiskImage RecoveryPartition can be accessed immediately so that the last system image can be restored directly. If the Windows operating system does not start or if faulty drivers have to be uninstalled – with the integrated recovery environment, all O&O tools are available to make the system operational again as easily as possible. Not only is this much more comfortable and quicker for the user, it also provides them with an extra level of security as this medium cannot get lost or damaged as easily as a "portable", external one. However, with O&O DiskImage ToGo, this portable rescue medium is still an option for those who prefer it or for when a PC won't boot anymore.
Creating your Recovery Partition
The O&O DiskImage RecoveryPartition contains a bootable image and, if wanted, your current backups. If ever your operating system is no longer able to start, the O&O DiskImage boot environment will start automatically. Here you'll be able to restore backups from your O&O DiskImage RecoveryPartition or from an external disk. It's an in-built safety net to help you when disaster strikes.
Step-by-step instructions and Video
Simply go to our online user guide at the following link and follow the instructions there: Create Recovery Partition! There are helpful tips too and trouble shooting, as well as a short tutorial video should you prefer that format. The video is right here:
Why you must backup your data!
When you back up a PC, O&O DiskImage saves all personal files as well as hard drive information and individual settings. This not only protects irreplaceable files but, in a worst case scenario, also saves you the trouble of having to carry out a time-consuming new setup of programs and the Windows operating system. If you need to restore the Image onto a new PC with different hardware then O&O DiskImage 16 can do this no problem. The integrated MIR function (Machine Independent Restore) enables this for you regardless of the hardware manufacturer or setup.
Test it free for 30 days and see for yourself what this product can do for your security. Or buy now, with a 30-day money back guarantee: