O&O Complete Protection – ask the security experts
Whether you are computing at home or at work, one thing is always top of your list – security. In these days of hidden Viren, Trojans, spyware and other potential attacks, the security of your data and your machines is more important than ever. That is why you will find dozens of companies all of whom offer to take care of one individual aspect of your computing safety – but there's only one manufacturer who can do it all for you.
What is O&O Complete Protection?  
O&O Complete Protection is our name for what we do every day for every kind of private and corporate PC user worldwide: we protect them. We protect their data and their systems at every single stage of their PC or server's life, from purchase to the end-of-life. With O&O Complete Protection you can:
Recover data that was never backed up or that was created between a Backup and a crash: O&O DiskRecovery
Backup all your crucial data including operating system: O&O DiskImage
Access and repair a machine when it won't boot up or a password was forgotten:O&O BlueCon
Delete your private, sensitive data so securely it can never be accessed or your identity stolen before you dispose of hardware:O&O SafeErase
And coming soon: Cloud SaaS protection and monitoring while you're on the road – watch this space…
What is unique?
O&O Complete Protection goes way beyond what the traditional data protection providers do of simply making a backup. Sure, there are companies out there offering Backups. There are companies out there offering data recovery. There are companies who offer some kind of administrator tools to work on defective machines and some who offer safe deletion of data. O&O is the only company who can offer you all of this with solutions that perfectly complement one another. Each program can be independently licensed and/or combined with one another. We fill all the nasty gaps the others leave behind – and we even begin protecting your data before you begin computing! Data for instance that has not yet even been copied or backed up – O&O can simply get it back for you if it is lost. And did you know that even with regular backups, if a PC crashes between backups there could be a huge amount of new data that simply wasn't caught in the latest backup? No problem – we've got your back. O&O Complete Protection leaves nothing to chance – you shouldn't either!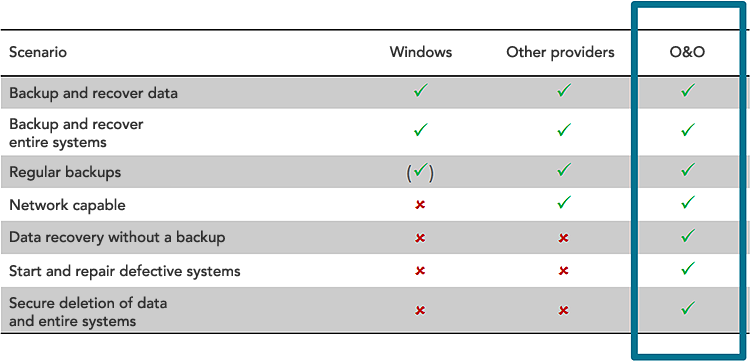 Protect yourself now, once and with just one partner!
With O&O you need only one partner for all your security needs. Send us an e-mail to sales@oo-software.com and we will help you protect your entire computing life, at home and at work. Alternatively, click on the product links above and you can test all our protection programs free of charge for 30 days. We hope to hear from you soon!