NEW: Computer Groups function for Avira Antivirus Software and your hardware over the O&O Syspectr Console!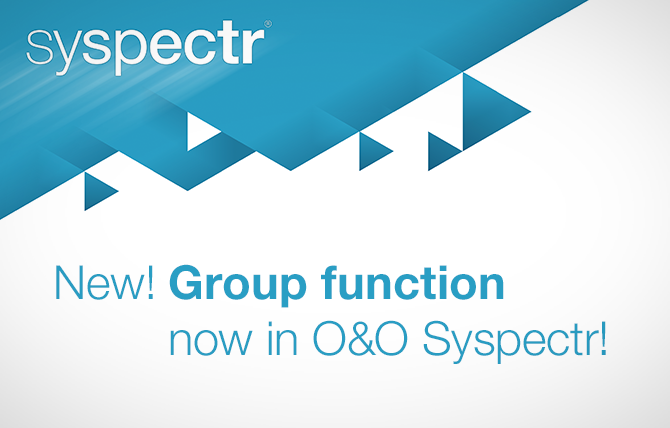 What is O&O Syspectr?

O&O Syspectr is a web app for managing Windows systems over the internet. To do this, the computer being managed needs to have a program installed that will connect it to our servers. Never miss an important event on your Windows systems. As soon as something happens, you will receive a notification and you can react immediately, even when you're on the road. You have access from everywhere simply over your browser. Manage your systems from your Smartphone, Tablet, Notebook or from your Desktop PC.
Whether it's the current status of your software, hardware, windows security or if you need to run a script or connect with a remote PC or server: O&O Syspectr has it covered, and more. Management with O&O Syspectr takes place over a web browser. Every current browser on every internet-capable end device can be used. As usage is based entirely on HTML5 there is no need for additional software or Plug-Ins. The same applies to the remote desktop which also operates entirely over a browser.
NEW: Comprehensive Group function for your machines!
We are delighted to announce the release of a brand new Group Module in O&O Syspectr! With groups you can organize your computers and thus make settings for an entire group of computers. Likewise, you can get information about an entire group. Simply click on the group's tile to see its overview. You can also create a new group with the "Create new group" option. In the "Overview" section of the group you will get a summary of the group with information about the number of included computers and the last connection of one of the computers. In the list of computers you can read the last event of the computer and its current status.
The group "All computers" is always automatically created by the system and contains all your computers in your account. With this group you can distribute global settings to all your computers.
Tags
O&O Syspectr uses tags to add machines to a group. From a "tag" you can create a group by clicking on the "tag". As soon as you set a "day" for a computer, this computer is added to the group and receives the corresponding settings of the group. "Computer Tags" displays the computer tags and lets you assign these tags to the machines of your choice. By clicking on a "tag" you will be taken directly to the relevant tag list. There you can switch to the corresponding computer group or create a new group right away if it does not already exist.
New features at a glance:

NEW: Integration of advanced group management: Shows status of the systems; Tags define groups, but can stand alone
NEW: Avira module now group-compatible: setup and configuration on any number of systems
NEW: The hardware module is now in the new group system
NEW: Infrastructure optimized in terms of performance and reliability
As well as your hardware, the following Avira products can now be managed in groups over O&O Syspectr:

Avira Antivirus Pro – Business Edition
Avira Antivirus Server
Avira Antivirus for Endpoint
Avira Antivirus for Small Business
Register now – Setup takes less than five minutes: register, install it and you're done.
O&O Syspectr is ready to go in 5 minutes: Create account, install the client, done! In addition to internet access, no additional infrastructure is required. Suitable for organizations of all sizes. The admin interface is suitable for desktops, smartphones and tablets. Once this is done, the necessary system information will be transferred and saved, available for you to then see and access over your account. During transmission and storage of your data, it will be encrypted and secured using the latest standards.
O&O Syspectr itself is free, your only costs are for new or extended Avira licenses. In order to access the Avira module, simply click on settings under your monitored computer, select "Modules" and activate the Avira Module with one click.