NEW! THE SpeedUp Tool is back - O&O Defrag 19 Pro released!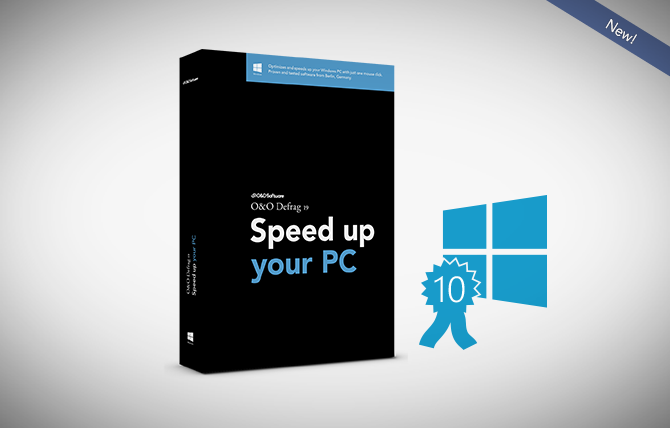 With Microsoft having released Windows 10, together with a whole range of new devices, it's easy to forget one snag that not even version 10 has fixed: if you're using traditional hard disks, they will slow down. It may take a while, you may not have a dramatic crash, but it will happen for sure. But not to worry…
The all-new version of O&O Defrag is here – O&O Defrag 19 Pro! And we haven't just improved O&O Defrag 19, we have developed it anew! With the new era of Windows, we have brought O&O Defrag 19 into the new era too with the very newest technology to speed up and extend the lifespan of modern disks and PC setups!
In-built O&O DiskCleaner
This great new feature searches for and removes temporary and unnecessary files that are taking up memory and increasing fragmentation. O&O DiskCleaner also increases the security of your data, as private content (e.g. Thumbs.db, copies of documents, drafts of emails, Dumps) will no longer be kept as copies in unnecessary system files.
Fully compatible with the new Windows 10
O&O Defrag 19 supports Windows 10 as well as Windows 8.1, Windows 7 and Vista
Improved optimization of SSDs
File systems on SSDs fragment heavily. As well as regular TRIM optimizations, O&O Defrag 19 also improves the structure of the SSD file systems by optimizing the most fragmented files to increase performance and life expectancy.
Don't miss out on the many new functions in O&O Defrag 19 Pro! Grab your Upgrade now in our Online Shop, or alternatively test it for 30 days now on your current Windows system – free of charge and obligation. As well as the new functions, the old and trusted features for speeding up your PC and extending the lifespan of your hardware are all there too.
Here's what some happy customers are saying about O&O Defrag:
"We have been using O&O Defrag now for many years and are very satisfied, not just with the software but also the support we receive."
Ralf Linka, Horváth & Partners
"Only O&O Defrag Server is able to defrag these enormous, sometimes 400 GB files. All other products we tried simply couldn't do it."
Scott Brown, SMI.