NEW! O&O SafeErase 18: The ultimate protection of sensitive data under Windows.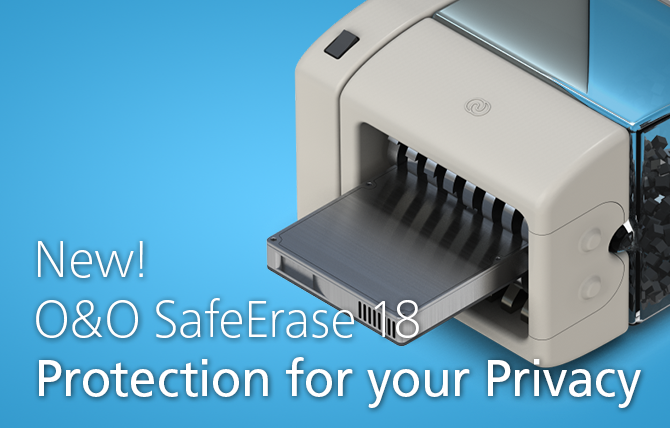 Deleting one or more files under Windows normally just moves those files to the recycle bin. These files only disappear from view when the recycle bin is full or the user proactively empties it.
When you delete a file on a Windows operating system, you might think that it's gone forever. However, that's not entirely true. Even if you press the delete button, the data still exists on your disk. This is because the Windows operating system simply marks the space occupied by the file as available for use. Until the space is overwritten by new data, the old file can be recovered using special software.
This may not seem like a big deal, but it can have serious consequences. If you're selling or giving away a computer, for example, you might think that deleting all your files is enough to protect your personal information. However, someone with the right skills and tools could easily recover your deleted files and access your sensitive data.
Do not risk your confidential data!
O&O SafeErase works by overwriting the data on the disk with random or predefined patterns. The more times the data is overwritten, the less likely it is to be recoverable. The software has various wiping methods, including the U.S. Department of Defense (DoD) 5220.22-M standard, which overwrites the data seven times. It can wipe the entire disk, including the free space, to prevent any traces of data from being left behind.
Also included is the Gutmann method, which overwrites the data 35 times with different patterns. Scheduling and reporting are also core features to enable the safe and regular deletion of sensitive data.
Protection for Companies
O&O SafeErase ensures that companies can securely delete their data in accordance with the guidelines of the US Department of Defense (DoD) and the German Federal Office for Information Security (BSI). The new version 18 includes even more efficient algorithms so that secure deletion can be performed even faster.
The VSITR standard promoted by the BSI is similar to the DoD standard, but performs seven overwrite operations. This provides a high level of security that virtually eliminates any possibility of data recovery.
Internet Security
When surfing the Internet, your browser usually stores Internet files unnoticed on your hard drive. These files can provide information about websites you've visited or the passwords you've entered. It makes no difference whether it involves cookies, data entered on forms, or browsing history – O&O SafeErase lists all the information saved for each browser you use, and you can then delete them individually or together. Once deleted, nobody will be able to detect your Internet traces and your online accounts are protected from data thieves or hackers. Version 18 supports Microsoft Edge, Internet Explorer, Google Chrome and Firefox.
O&O SafeErase 18 supports Windows 11 and Windows 10.
New and main features:
NEW: Performance optimiert
NEW: Support for the latest Browser versions
REVAMPED: The UI has been improved
Delete an entire computer, no boot medium necessary
Delete internet traces and temporary program files
Six methods to permanently delete confidential data
Detailed reports as proof of deletion
Analysis tool to search for unsafe deleted files
Adapted deletion method for SSDs (Solid State Disks) with SolidErase