NEW! O&O SafeErase 11: Protect your data and privacy, also under Windows 10!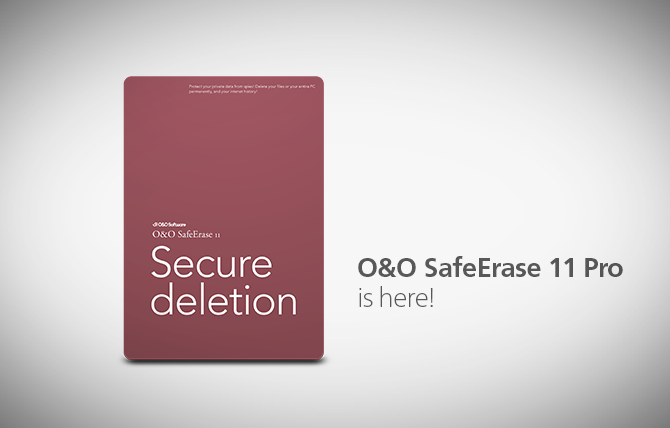 O&O SafeErase 11 is compatible with Windows 10, the very latest browser versions and comes with a revamped engine. This product affords you the maximum protection for your confidential data and your identity.
Your personal photos and confidential documents can easily fall into the wrong hands when you sell, give away or dispose of your old PC or hard drives. That is exactly what many people are doing right now when upgrading to Windows 10 and buying new hardware. Identity theft is now a widespread security threat. This is because clicking on "Delete" does not mean your files are permanently deleted. Even formatting the hard disk is not enough to permanently delete data!
Do not risk your confidential data!
O&O SafeErase permanently deletes your confidential files using recognized methods so that a recovery is never possible, not even when using the best file recovery software. It also deletes all your internet history so that nobody will be able to detect your Internet traces and your online accounts are protected from data thieves or hackers.
All files, settings, applications and the operating system are deleted so that a recovery even with the best file recovery software is impossible. You can delete an entire computer including the system partition without boot media. After restarting the system the deletion process begins automatically. Should an SSD not support TRIM, then the data is overwritten with zeros to avoid wear effects.
New in Version 11
NEW: Brand new interface and engine for quicker and easier use
NEW: Support for the new .Net Framework
NEW: Firefox: Option to delete Bookmarks and history separately
Improved: SSD recognition advanced and expanded
Improved: Chrome: more support for Chrome Extensions