NEW: O&O FileErase - Professional and secure deletion of your precious files!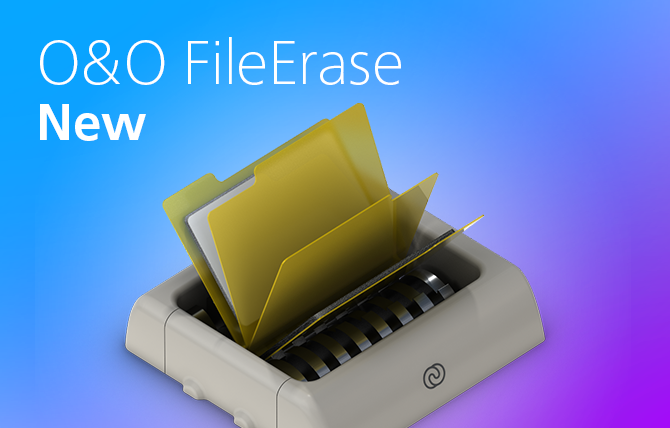 Over time, many very private or business-critical files accumulate on a computer. What happens to these files when you no longer need them? Moving to the Recycle Bin is far from enough to really protect your privacy. O&O FileErase destroys files and folders for you at the touch of a button. You can decide yourself with which security level your data should be destroyed. And you have full control over which files or folders O&O FileErase should delete for you. Even data that is erased with the low levels of security can not be recovered with commercially available data recovery programs.
These methods are suitable e.g. for deleting your private photos or videos before sharing or selling your computer. Data that is deleted at medium or high levels of security can not be recovered even in data recovery laboratories or by specialized agencies. For example, use these methods to delete sensitive company or financial data.
Thanks to O&O Software's brand new O&O SolidErase, data on SSDs can now be totally and securely shredded while going easy on the hardware itself.
Protect your private information
O&O FileErase erases files and folders safely, reliably and irrecoverably. Simply select which files or folders you want to delete, O&O FileErase does the rest for you.
Save time and avoid worry
You determine the desired security level of data destruction. Select with a click the files or folders to be deleted. O&O FileErase clearly shows you exactly what it is doing. O&O FileErase was developed by us to make it as easy as possible for you to protect your privacy while always giving you full control over which files and folders you want to delete. O&O FileErase deletes your sensitive files securely, dependably, and permanently! Check out our YouTube video here for a look inside!
Be the only one who ever sees your files!