NEW: O&O FileBackup 2.2.1376! With a brand-new user interface and Dark Mode.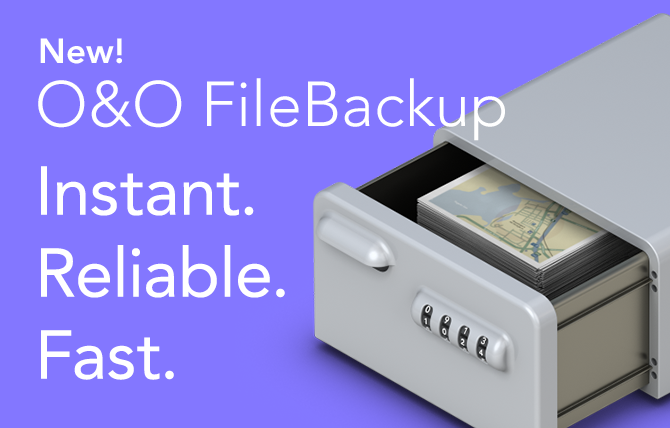 A regular backup is still something that many users prefer to avoid. At least that is until they suffer their first loss of important files as a result of software, hardware or user error: that's when it becomes crystal clear just how valuable a reliable and up-to-date backup really is! Today we release a new version of O&O FileBackup! A backup is crucial for everyone – it means you can restore old photos, music files, videos and more when something goes wrong – and it should be this easy!
Instant. Reliable. Fast.
Instant: O&O FileBackup can be used immediately. On every Windows PC. Without installation and without equipment. Start, select, save. Finished.
Reliable: O&O FileBackup detects new and changed files. You need never again look for photos, videos and other documents by hand to copy them. Everything is done automatically.
Fast: O&O FileBackup backs up your data as fast as is physically possible. Long waiting times for the backup are over. And if you need to save a lot of data, you can pause the backup at any time and continue later. Backups do not get faster or easier than this.
O&O FileBackup – your portable Safety Net.
O&O FileBackup enables you to backup your data quickly and easily. Choose the directories you want to back up yourself. Or let O&O FileBackup automatically search for important data. It also gives you the option of backing up just photos, videos, music, and Office documents, so you have a copy of your digital treasures – because no hard drive and no SSD lasts forever! Using O&O FileBackup is extremely easy: you are guided step by step through the backup process. And the integrated assistant also helps you with the restoration of your backups.
Automatic – because your time is as precious as your data
Automatic recognition of important files: O&O FileBackup can automatically detect important files and suggest them for backup. Select photos, videos, music and office documents and all the files with the corresponding file extensions are searched for and saved. If you want, you can even customize it yourself and include more files in this backup.
Automatic backup of new and changed files: To avoid searching for new or changed files, O&O FileBackup can automatically detect these files for you and propose them for backup. This is especially helpful when importing photos and videos as it immediately creates another copy of this valuable data.
Need your backup? Easy.
Restoring the backup files is as easy as backing them up: just use the built-in restore feature in O&O FileBackup to select the files you want to restore and restore them to the target directory. Incidentally, you can also restore the data without O&O FileBackup because the data is stored faithfully on the backup medium and can be easily read and copied again direct from there.
O&O FileBackup supports Windows 8.x, 10 and 11, and Windows Server 2013, 2016, and 2019.
New in Version 2.1.1376
NEW: Complete revision of the user interface
NEW: Dark Mode setting
FIX: Setting "Adjust the target directory" now in the "Security" section
FIX: Diverse Bug fixes
Available in English, German and French.
Test it free for 30 days and see for yourself how easy your security can be. Or buy now, with a 30-day money back guarantee: