NEW! O&O Enterprise Management Console 5 - Central IT Administration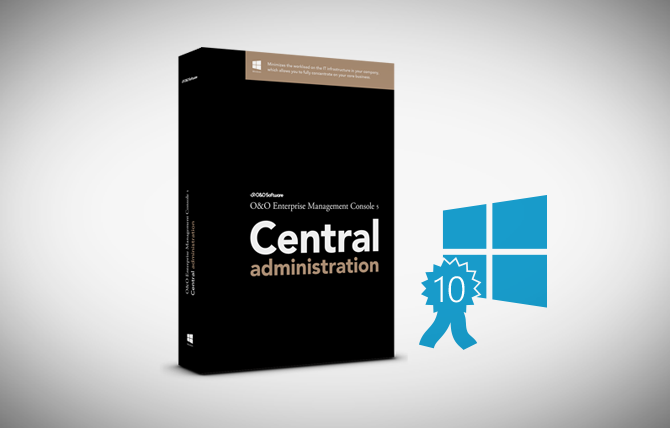 The O&O Enterprise Management Console is the focal point of your network management. Automatic data backups, optimize system resources as well as monitor memory capacity- network management from O&O allows administrators to do all this from their own desks. Remote management now makes manual installation on individual clients superfluous.
Some software programs can only be managed with difficulty in the network. You need a lot of valuable time, as well as allow for long intro and service times. The O&O Enterprise Management Console minimizes the workload on the IT infrastructure in your company, which allows you to fully concentrate on your core business.
Manage your software centrally and simply
The O&O Enterprise Management Console enables you to install and manage your O&O programs from remote; in addition, you can also distribute jobs onto individual clients and sites. All events are logged in detailed reports and stored in a database so that you can retrieve information about the job execution status at all times.
Scalable to your company's size and needs
The simple and intuitive user interface is focused on the important functions of network management. The system is up and running in just a few minutes, and you can begin with the remote installations and the Job scheduling. The remote installation of O&O products, specifically the installation of "product agents," is processed for you and your users transparently and automatically. The modular design of the O&O Enterprise Management Console adapts itself to your specific needs, requirements and company size. As a longstanding Microsoft Gold Certified Partner, all our products are designed to be compliant with Windows, to ensure maximum security for your system and your data.
New in Version 5:
New Version 10 of O&O DiskImage for Backup and Restore
New Version 19 of O&O Defrag for system performance
Support for SQL Server 2014
Support for Windows 10
Migration assistant for old database versions
Optimized: Identify space wastage – O&O DiskStat
Optimized: Advanced warning of potential disk failure – O&O DriveLED
Optimized: Identify hardware and software error sources – O&O EventViewer
Read more on our website or try and buy now: