NEW: O&O DiskStat 4.0.1363! Get a complete overview of your Disk usage and optimise it!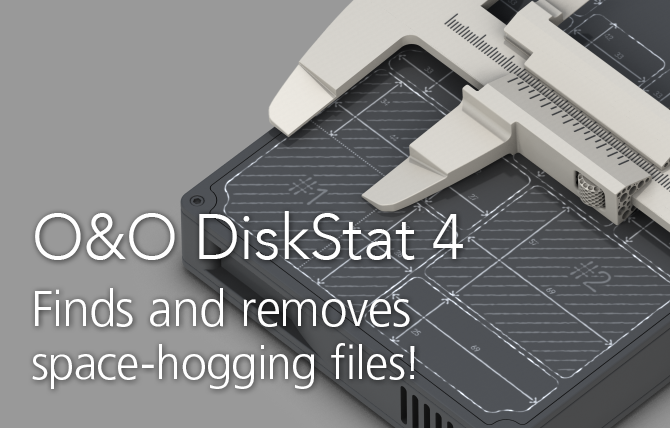 O&O DiskStat allows you to analyze used space on your hard disk and see what is taking up valuable space.
Regardless of whether at home or in a company network, ever-increasing amounts of data can severely slow down the time needed for accessing files and making backups. You'll be amazed at how much disk space you can win back simply by getting rid of the ballast. O&O DiskStat 4.0 allows you to analyze used space on your hard disk with the help of detailed tables. Once identified, you can get rid of the space-wasters on your disks, gaining space for new programs and data, and saving money you might have spent on a new disk.
Acts like a detective on the lookout for wasted space on the hard disk
O&O DiskStat provides you with an overall view of just how your hard disk is being used. The product makes it simple for you to track down those files and folders that are taking up too much space on your hard disk, and causing your computer to slow down. This versatile tool offers a Windows-Explorer type interface and a whole range of options to combat wasted space, including deletion and duplicate search. An overview of the storage space history enables users to predict whether and when storage space will be exhausted at current constant rates.
With detailed Tables and Categories
O&O DiskStat allows you to analyze used space on your hard disk with the help of tables and several categories. After reading the hard disk, the user gets an overview of the entire disk. Used space on every partition is displayed in user-friendly tables. In addition, the largest files on the disk are also displayed for quick and easy access.
In the new version, you can determine all file categories over the entire computer or just network drives or have the drive usage extrapolated.
A host of new features
For Version 4.0.1363 we have introduced many new features to enhance your monitoring and disk control capabilities. O&O DiskStat also offers enhanced support for cloud files such as Microsoft OneDrive. Users can also identify potential duplicates using a highly optimized procedure and easily mark them for transfer or deletion in batch processing.
Main and new features in Version 4.0.1363:
NEW: Display all marked elements in their own view
NEW: Toolbar for faster navigation
NEW: Menu for direct access to the evaluations
NEW: View menu restructured
NEW: Security query when deleting files
NEW: Settings for security prompt when deleting files
NEW: Settings for considering removable drives and drives that are not ready
NEW: Deleting duplicates is only possible via marked files
NEW: Automatic detection of connection states of network drive
FIX: Copying file types caused a crash
FIX: View optimized for statistics overview
System Requirements:
Windows 8 or higher.
Microsoft .NET Framework 4.8 or higher.
Portable, therefore no installation necessary.
10 MB Disk Space
1 GB RAM (recommended 2 GB)
Internet Connection

Available in English, German and French.
Try or buy now!
Download the O&O DiskStat free 30-day trial from our Website! Or buy now to start seeing exactly what is going on inside your machine, and how you can free up space and improve performance: