NEW: O&O Defrag 27 Server Edition! Increase performance for Windows Server Systems, now with Network Management.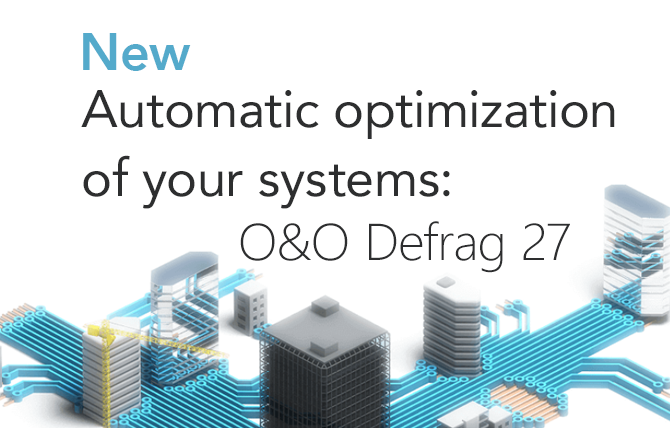 With O&O Defrag 27, we have raised system optimization to a new level.
Our new O&O Defrag 27 Server Edition is now available!
Boost your organization's performance with speed and efficiency! Fragmented files can drag down your servers and desktops, reducing their responsiveness. Don't let fragmentation eat into your valuable time. With O&O Defrag 27 for servers and PCs, you can supercharge your hard drives and SSDs, ensuring smooth operation and safeguarding against fragmentation. Experience less wear on your devices and extend their lifespan. With O&O Defrag, guard your business against early hardware wear, enhance the device lifecycle, and harness scalable solutions to actively reduce costs. Make the smart move with O&O Defrag!
O&O Defrag supports Windows Server 2016, 2019, 2022 and the new Windows 11. 
NEW: O&O IntensiveOptimize
The new Intensive Optimization (O&O IntensiveOptimize) is the fastest and at the same time most comprehensive optimization for Windows disks to date. A separate and exclusive instance of Windows is started, in which only O&O Defrag runs and can therefore not only exploit the maximum system performance for optimization, but also have access to all files at the same time. Regardless of whether these are system files or files exclusively locked during Windows operation.
The number one cause of slow Systems
The Problem: Every file system is fragmented. This means that over time, files will no longer be filed consecutively but, instead, be scattered across the computer's entire storage area, slowing down access to these files.
The Solution: This is where O&O Defrag goes to work. It puts the fragmented file pieces back together again. The read head of the hard disk is much less stressed and worn in a tidy (defragmented) hard drive, so that prolongs the life of your hardware significantly. The same applies to the load on the memory cells of SSDs. Even in the case of data loss you have a better chance of a complete recovery of the lost data: coherently stored files can be more easily reconstructed by data recovery programs such as O&O DiskRecovery than files that are stored across multiple hard disk areas.
Now available over a Network Management Console
O&O Defrag can now be managed across a network! Roll out, install and manage the performance of your machines by deploying O&O Defrag over our RMM Software, O&O Syspectr! Over an intuitive dashboard with a whole range of monitoring and management functions, you can not only manage your system performance, but also be automatically notified of any issues. Any time, anywhere. All you need is an internet connection.
New features at a glance
New: O&O IntensiveOptimize
New: Revamped User Interface
Improved: The O&O Defrag Engine
Network Management: O&O Defrag is also integrated into our RMM software, O&O Syspectr! Roll out, manage and schedule the performance and protection of your systems network-wide!
Try and Buy!
Don't just take our word for it! Grab your copy now in our Online Shop, or alternatively test it for 30 days now on your current Windows system – free of charge and obligation.
Here's what some happy customers are saying about O&O Defrag:
"We have been using O&O Defrag now for many years and are very satisfied, not just with the software but also the support we receive."
Ralf Linka, Horváth & Partners
"Only O&O Defrag Server is able to defrag these enormous, sometimes 400 GB files. All other products we tried simply couldn't do it."
Scott Brown, SMI.