NEW: O&O Defrag 26 Server Edition! Avoid downtime and increase performance for Windows Server Systems.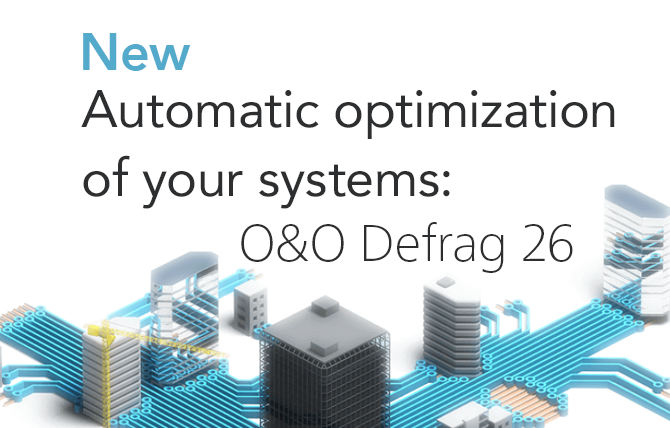 With O&O Defrag 26, we have added to system optimization a Check & Repair function.
Our new O&O Defrag 26 Server Edition is now available!
Fragmented files slow servers and desktops in your organization. Their availability to you decreases. Depending on the degree of fragmentation, disk accesses become much slower, meaning that valuable time is unnecessarily lost. O&O Defrag 26 for servers streamlines hard drives and SSDs and efficiently prevents fragmentation. The resulting reduced physical wear on the optimized storage media will extend the life of your hardware too.
O&O Defrag protects your business against premature hardware wear, increases the hardware lifecycle, is extremely scalable, and so proactively helps you save business costs. It supports Windows Server 2012 R2, Windows Server 2016, 2019, 2022 and the new Windows 11. 
NEW: "Check & Repair" Function
New in the modern UI is the Check & Repair function. O&O Defrag 26 checks your hard drive or SSD for inconsistencies that can lead to problems. The component memory and the Windows system files are checked for errors. After the check is complete, O&O Defrag will show you whether and which errors were found. Most errors can be corrected directly with the repair function.
NEW: Two Interface styles, Classic & Modern
Brand new in O&O Defrag 26 is a choice of two interfaces: Classic and modern. The Classic is the familiar UI, but we now offer a modern interface, much simpler and streamlined. Simply choose your preferred style and let O&O Defrag do the rest for you. In O&O Defrag 26 you can switch at any time between the classic view with all professional settings, and the modern view reduced to the essentials.
The number one cause of slow Systems
The Problem: Every file system is fragmented. This means that over time, files will no longer be filed consecutively but, instead, be scattered across the computer's entire storage area, slowing down access to these files.
The Solution: This is where O&O Defrag 26 goes to work. It puts the fragmented file pieces back together again. The read head of the hard disk is much less stressed and worn in a tidy (defragmented) hard drive, so that prolongs the life of your hardware significantly. The same applies to the load on the memory cells of SSDs. Even in the case of data loss you have a better chance of a complete recovery of the lost data: coherently stored files can be more easily reconstructed by data recovery programs such as O&O DiskRecovery than files that are stored across multiple hard disk areas.
Automatic: Install & That's All
With O&O Defrag 26 Server the Install & That's All feature takes system optimization to another level. You can simply install the program and let it do its work. It will intelligently carry out whatever is needed on your machine on its own. O&O Defrag 26 will configure and run all settings automatically, according to the specific requirements of your system. Maximum performance practically out of the can.
Should you wish you can of course manually setup, configure and schedule the optimization of your system yourself.
New features at a glance
New: "Check & Repair" Function.
New: Removal of Windows Apps with O&O AppBuster.
New: Two Interface styles, Classic & Modern.
New: Revamped Design and Engine.
Try and Buy!
Don't just take our word for it! Grab your copy now in our Online Shop, or alternatively test it for 30 days now on your current Windows system – free of charge and obligation.
Here's what some happy customers are saying about O&O Defrag:
"We have been using O&O Defrag now for many years and are very satisfied, not just with the software but also the support we receive."
Ralf Linka, Horváth & Partners
"Only O&O Defrag Server is able to defrag these enormous, sometimes 400 GB files. All other products we tried simply couldn't do it."
Scott Brown, SMI.