NEW: O&O Defrag 26! Now with Check & Repair function, Windows Apps Removal and two Interface styles!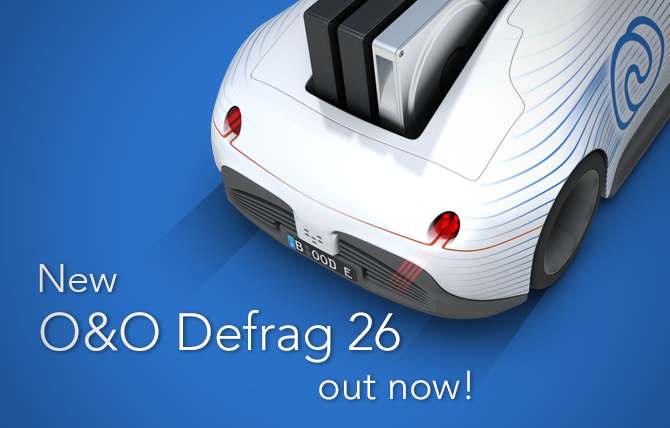 The new O&O Defrag 26 is out now and brings System Optimization to a new level.
Our new O&O Defrag 26 is now available!
Optimizing your computer not only means it operates at optimum speed and efficiency, it also means it will live longer. Deploying O&O Defrag saves you time through increased speed, and money through decreased wear and tear on your hardware. We have further improved O&O Defrag for you with some great new features. The new O&O Defrag 26 takes system optimization to a new level.
NEW: "Check & Repair" Function
New in the modern UI is the Check & Repair function. O&O Defrag 26 checks your hard drive or SSD for inconsistencies that can lead to problems. The component memory and the Windows system files are checked for errors. After the check is complete, O&O Defrag will show you whether and which errors were found. Most errors can be corrected directly with the repair function.
NEW: Uninstallation of Windows apps with O&O AppBuster
In a clear view, O&O AppBuster shows which apps are installed on the computer – actually hidden apps are also displayed here. O&O AppBuster makes it possible to remove unwanted apps quickly and easily. Or, if one of these apps was accidentally uninstalled, it can be restored with one click.
NEW: Two Interface styles, Classic & Modern!
Brand new in O&O Defrag 26 is a choice of two interfaces: Classic and modern! The Classic is the familiar UI, but we now offer a modern interface, much simpler and streamlined for set and forget fans. Simply choose your style and let O&O Defrag do the rest for you. In O&O Defrag 26 you can switch at any time between the classic view with all professional settings and the modern view reduced to the essentials.
The number one cause of slow PCs
The Problem: Every file system is fragmented. This means that over time, files will no longer be filed consecutively but, instead, be scattered across the computer's entire storage area, slowing down access to these files. This problem doesn't just apply to hard disks but to SSDs as well. Over the course of time SSDs save file fragments over more memory cells than are necessary. This, in turn, leads to a continuous slowing down of the read and write processes, just as we experience on hard disks.
The Solution: With O&O Defrag 26 the Install & That's All feature takes system optimization to another level. You can simply install the program and let it do its work. It will intelligently carry out whatever is needed on your PC on its own. O&O Defrag 26 will configure and run all settings automatically, according to the specific requirements of your system. Maximum performance practically out of the can.
Version 26 for automatic speed and monitoring! And should you wish you can of course manually setup, configure and schedule the optimization of your system yourself.
New features at a glance
New: "Check & Repair" Function.
New: Removal of Windows Apps with O&O AppBuster.
New: Two Interface styles, Classic & Modern.
New: Revamped Design and Engine.
Try and Buy!
Don't just take our word for it! Grab your copy now in our Online Shop, or alternatively test it for 30 days now on your current Windows system – free of charge and obligation.
Here's what some happy customers are saying about O&O Defrag:
"We have been using O&O Defrag now for many years and are very satisfied, not just with the software but also the support we receive."
Ralf Linka, Horváth & Partners
"Only O&O Defrag Server is able to defrag these enormous, sometimes 400 GB files. All other products we tried simply couldn't do it."
Scott Brown, SMI.