NEW: O&O Defrag 25 Server Edition! Avoid downtime for Windows Server Systems.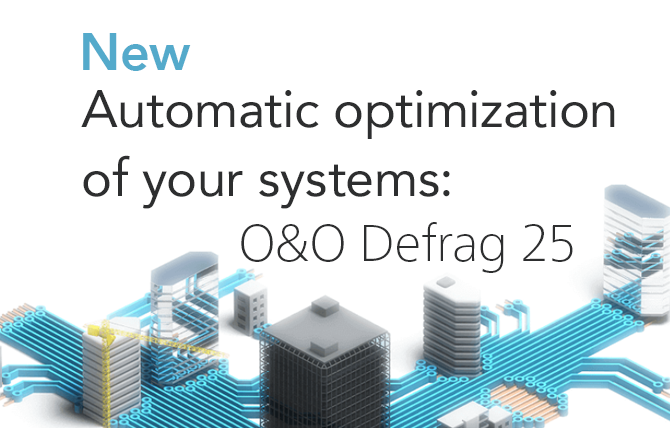 With O&O Defrag 25, we have added to system optimization notifications on your machine's health status.
Our new O&O Defrag 25 Server Edition is now available!
Fragmented files slow servers and desktops in your organization. Their availability to you decreases. Depending on the degree of fragmentation, disk accesses become much slower, meaning that valuable time is unnecessarily lost. O&O Defrag 25 for servers streamlines hard drives and SSDs and efficiently prevents fragmentation. The resulting reduced physical wear on the optimized storage media will extend the life of your hardware too.
O&O Defrag protects your business against premature hardware wear, increases the hardware lifecycle, is extremely scalable, and so proactively helps you save business costs. It supports Windows Server 2012 R2, Windows Server 2016, Windows Server 2019 and the new Windows 11. 
NEW: S.M.A.R.T. Functionality to let you monitor your Network's health
In O&O Defrag 25 the S.M.A.R.T. functionality has been integrated for the very first time. This indicates the "health status" of hard disks, SSDs and RAIDs whenever there is any problem. Such a problem could be a high temperature or an error reported by the drive itself. If there is anything unusual going on, a message will be displayed in the Windows Action Center. This functionality notifies users of any problems and gives early warning about any impending crash of a disk. 
NEW: Drive activity display in the Windows taskbar
In the new O&O Defrag version, read and write accesses on the machines will be more visible. Users can see have the read and write operations currently being run on any drive displayed in the taskbar. A search on the respective drive can be started by right-clicking.
The number one cause of slow Systems
The Problem: Every file system is fragmented. This means that over time, files will no longer be filed consecutively but, instead, be scattered across the computer's entire storage area, slowing down access to these files.
The Solution: This is where O&O Defrag 25 goes to work. It puts the fragmented file pieces back together again. The read head of the hard disk is much less stressed and worn in a tidy (defragmented) hard drive, so that prolongs the life of your hardware significantly. The same applies to the load on the memory cells of SSDs. Even in the case of data loss you have a better chance of a complete recovery of the lost data: coherently stored files can be more easily reconstructed by data recovery programs such as O&O DiskRecovery than files that are stored across multiple hard disk areas.
Unique: Install & That's All
With O&O Defrag 25 Server the Install & That's All feature takes system optimization to another level. You can simply install the program and let it do its work. It will intelligently carry out whatever is needed on your machine on its own. O&O Defrag 25 will configure and run all settings automatically, according to the specific requirements of your system. Maximum performance practically out of the can.
Should you wish you can of course manually setup, configure and schedule the optimization of your system yourself.
New features at a glance
New: Notification of your Network's health status with S.M.A.R.T. functionality.
New: Drive activity display in the Windows taskbar.
New: Revamped Design and Displays.
Try and Buy!
Don't just take our word for it! Grab your copy now in our Online Shop, or alternatively test it for 30 days now on your current Windows system – free of charge and obligation.
Here's what some happy customers are saying about O&O Defrag:
"We have been using O&O Defrag now for many years and are very satisfied, not just with the software but also the support we receive."
Ralf Linka, Horváth & Partners
"Only O&O Defrag Server is able to defrag these enormous, sometimes 400 GB files. All other products we tried simply couldn't do it."
Scott Brown, SMI.