NEW: O&O Defrag 21 for Servers and Workstations - More Speed And Savings For Your Business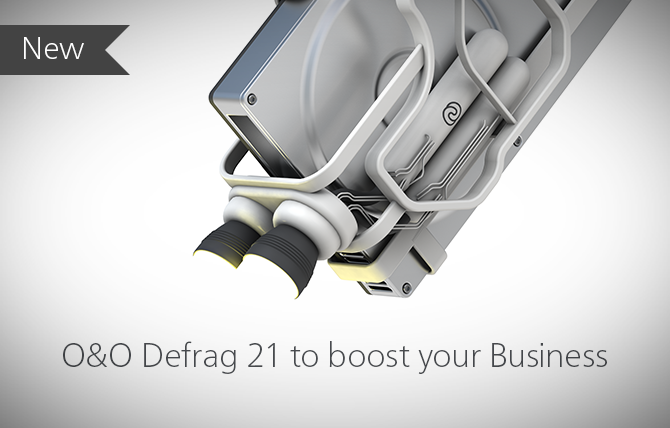 The new version 21 of our award-winning speed and optimization program O&O Defrag is out today in the server and workstation editions! With O&O Defrag entire computers and server can be defragmented so that data is packed together again. Not only does this increase the speed of your servers, it also reduces wear and tear of read and write heads and speeds up your data backups and system images.
Fragmented hard disks put the brakes on the servers in a company and as a result have an adverse affect on productivity. The level of fragmentation proportionally increases the time needed for accessing a hard disk. This in turn increases the amount of valuable time lost by each and every employee. The new O&O Defrag Server Edition for Windows servers optimizes your hard disk and packs file fragments securely back together again. Speed increases of up to 100% are not uncommon, and your hardware suffers much less wear and tear. Let O&O Defrag optimize your hard disks and you will get more speed while saving money on your hardware!
What's new?
New: O&O DiskStat full version for a detailed view of just how your hard disks are being used
New: Virtual machine support optimized
Improved: File access speed
Improved: Defragmentation Algorithms
Back to 100% performance with O&O Defrag
Today, local server systems are increasingly used as a link between the local network and the cloud. By focusing on fewer and fewer server units in the field, they are exposed to higher loads and have to meet increasing performance requirements faster than the hardware can be retrofitted. These retrofits are very expensive and time-consuming, and they often mean downtime and manual installation by the IT staff.
O&O Defrag enables a significant increase in performance with very little effort and can be used completely transparently on any server system without disrupting ongoing operations. Integrated activity monitors regulate system optimization so that it is performed only when the system is underutilized and optimal resource utilization can be achieved.
Virtual Machines

There's been further development in the optimization of virtual machines in O&O Defrag 21 for our corporate customers. Along with defragmentation on virtual machines, it's also possible to defragment a file on the host to achieve the best possible performance on both host and the virtual machine itself. Users of virtual machines know the phenomenon: the amount of data remains the same, but the memory for the virtual container increases and causes the virtual system to slow down. The new O&O Defrag Server Edition effectively eliminates and prevents this performance problem from occurring.
O&O DiskStat
O&O DiskStat provides you with an overall view of just how your hard disks are being used. It lets you track down those files and folders that are taking up too much space on your hard disk, and causing your machines to slow down. You can sort by category, file type, view them in Explorer and export them as a table. A further major function to speed up your systems. O&O DiskStat 3 is available free of charge for O&O Defrag users as a standalone application for finding and removing large and unnecessary files, in order to be able to clean up with a few clicks in case of storage shortage.
Faster file access
The defragmentation algorithms have been improved with a view to saving the system resources and a better strategy when placing the files for even faster file access.
Here's what some happy customers are saying about O&O Defrag:
"We have been using O&O Defrag now for many years and are very satisfied, not just with the software but also the support we receive."
Ralf Linka, Horváth & Partners
"Only O&O Defrag Server is able to defrag these enormous, sometimes 400 GB files. All other products we tried simply couldn't do it."
Scott Brown, SMI.