NEW: O&O Defrag 20 for Windows Server 2016 Released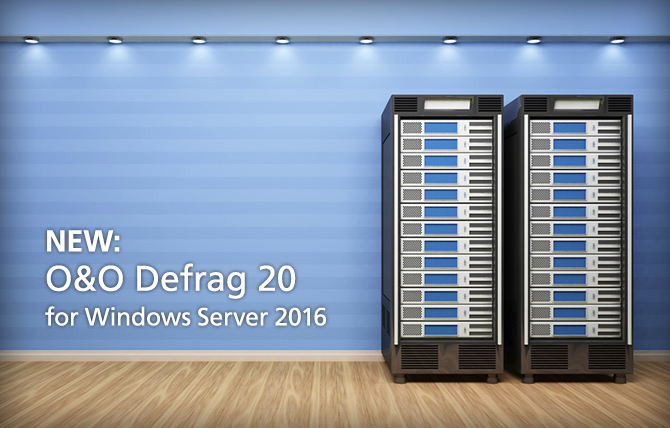 The new version 20 of our award-winning speed and optimization program O&O Defrag is out today in the server and workstation editions! With O&O Defrag entire computers and server can be defragmented so that data is packed together again. Not only does this increase the speed of your servers, it also reduces wear and tear of read and write heads and speeds up your data backups and system images.
Fragmented hard disks put the brakes on the servers in a company and as a result have an adverse affect on productivity. The level of fragmentation proportionally increases the time needed for accessing a hard disk. This in turn increases the amount of valuable time lost by each and every employee. The new O&O Defrag Server Edition for Windows servers optimizes your hard disk and packs file fragments securely back together again. Speed increases of up to 100% are not uncommon, and your hardware suffers much less wear and tear. Let O&O Defrag optimize your hard disks and you will get more speed while saving money on your hardware!
What's new?
New: Full support for Windows Server 2016!
New: O&O DiskStat provides you with an overall view of just how your hard disks are being used
New: Brand new user interface with improved operability
New: Improved support of variable DPI settings
New: Improved support of high contrast mode
Support for Windows Server 2016
O&O Defrag 20 already supports the newly released Windows Server 2016 operating system. With this we cement our reputation as a cutting edge, Microsoft Gold Partner and customers can immediately defrag and optimize their disks on the brand new operating system.
O&O DiskStat
O&O DiskStat provides you with an overall view of just how your hard disks are being used. It lets you track down those files and folders that are taking up too much space on your hard disk, and causing your machines to slow down. You can sort by category, file type, view them in Explorer and export them as a table. A further major function to speed up your systems.
Get O&O Defrag 20 now to speed up and streamline all your company machines.