O&O BlueCon 14: Disaster Recovery Now For Windows Server 2016 Too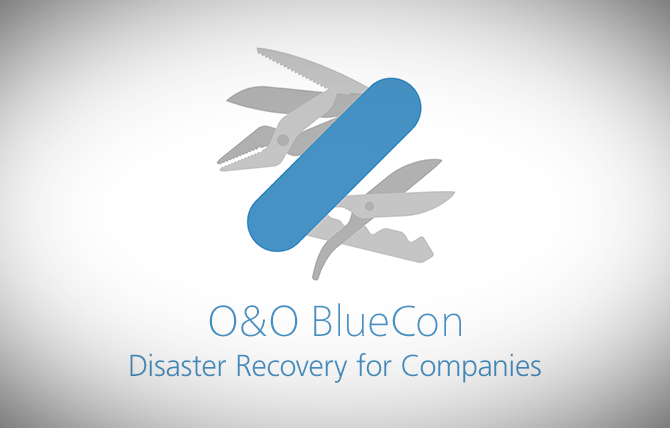 O&O BlueCon 14 is a high-performance collection of comprehensive tools to get damaged Windows systems up and running again with no new installation required.
If a server stops or only starts with errors, then every minute of outage costs money. In such a situation, a solution must be found within minutes. Often, administrators simply switch to another system or restore a backup, if one is available. But what if these options are not available? It means that a whole new installation is required, with substantial down time. It is exactly here where O&O BlueCon 14 comes into play: using a standalone Windows system, which can be run from a USB stick or CD, the installed operating system is bypassed and can be analyzed and repaired using the integrated tools in O&O BlueCon.
Start straight from boot medium!
From deactivating faulty drivers to resetting user passwords and reconstructing deleted data, O&O BlueCon belongs to the standard tool box of any IT administrator. Various O&O products are included in the current version which can, for example, recover lost data (O&O DiskRecovery 11), securely delete confidential data (O&O SafeErase 11) or make a forensic image of a system (O&O DiskImage 11, available in the Plus Edition). The latest version supports Windows 10, Windows Server 2016, enables a network boot thanks to compatibility with Windows Deployment Services (PXE) and scripting over Windows 10 networks.
NEW: Create a PXE Boot medium from BuildPE
In a Microsoft network environment, clients can now be started over a network – no DVD or USB stick is required. Using the PXE boot medium created within O&O BlueCon, customers can now boot a computer over their networks from a remote machine, rather than having to use a local medium such as a hard disk, CD, DVD or USB stick. The medium created in O&O BlueCon can be held on a central server and then activated for certain computers when needed, without this boot medium having to be physically available. The PXE server required to do this (Windows Deployment Service) is available in a Microsoft Domain or can be installed.
New in Version 14
Creation of a PXE Boot Medium direct from the Boot Assistant (BuildPE)
Supports Microsoft Server 2016
Support for Bitlocker: Bitlocker drives can be unlocked and accessed
Scripting over Windows 10 networks
New Version 11 of O&O DiskImage for Backup and Restore
New Version 11 of O&O SafeErase for secure data deletion
Solutions to daily problems with O&O BlueCon:
Backing up and restoring data: O&O DiskImage
Restoring accidentally deleted data: O&O DiskRecovery
Driver problems and service issues: O&O DeviceManager
Secure deletion of data volumes: O&O SafeErase
Resetting passwords: O&O UserManager
Partitioning hard disks: O&O PartitionManager
Combat errors in the registry database: O&O RegEditor
Advanced error detection: O&O EventViewer and O&O CheckDisk
Locating and removing data: O&O FileExplorer
Downloading additional tools: Integrated Firefox browser
Read more on our website or try and buy now: