NEW! O&O BlueCon 12: Disaster Recovery now for Windows 10 too!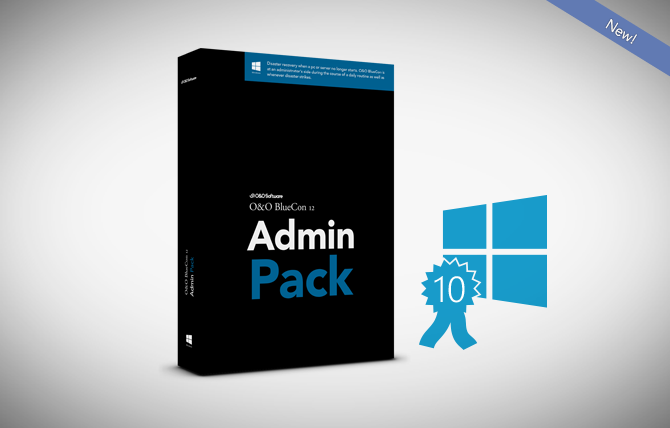 O&O BlueCon 12 is a high-performance collection of comprehensive tools to get damaged Windows systems up and running again with no new installation required.
If a server stops or only starts with errors, then every minute of outage costs money. In such a situation, a solution must be found within minutes. Often, administrators simply switch to another system or restore a backup, if one is available. But what if these options are not available? It means that a whole new installation is required, with substantial down time. It is exactly here where O&O BlueCon 12 comes into play: using a standalone Windows system, which can be run from a USB stick or CD, the installed operating system is bypassed and can be analyzed and repaired using the integrated tools in O&O BlueCon.
Start straight from boot medium!
From deactivating faulty drivers to resetting user passwords and reconstructing deleted data, O&O BlueCon belongs to the standard tool box of any IT administrator. Various O&O products are included in the current version which can, for example, recover lost data (O&O DiskRecovery 11), securely delete confidential data (O&O SafeErase 10) or make a forensic image of a system (O&O DiskImage 10, available in the Plus Edition). The latest version supports the Windows 10 ADK and starts with all integrated programs direct from USB or CD.
Support for Hyper-V
The new and extended support for Hyper-V means O&O BlueCon 12 will also run on host systems. This gives users in the otherwise quite sparsely decorated system environment a complete set of applications to locate and remedy problems. The time factor for recovering a system is even more crucial with virtual machines, because should the host system fail there are as a rule not just single servers but a whole series of virtual systems affected.
Solutions to daily problems with O&O BlueCon:
Backing up and restoring data: O&O DiskImage
Restoring accidentally deleted data: O&O DiskRecovery
Driver problems and service issues: O&O DeviceManager
Secure deletion of data volumes: O&O SafeErase
Resetting passwords: O&O UserManager
Partitioning hard disks: O&O PartitionManager
Combat errors in the registry database: O&O RegEditor
Advanced error detection: O&O EventViewer and O&O CheckDisk
Locating and removing data: O&O FileExplorer
Downloading additional tools: Integrated Firefox browser
Read more on our website or try and buy now: