New: Cloud IT Monitoring And Management With O&O Syspectr - Now FREE!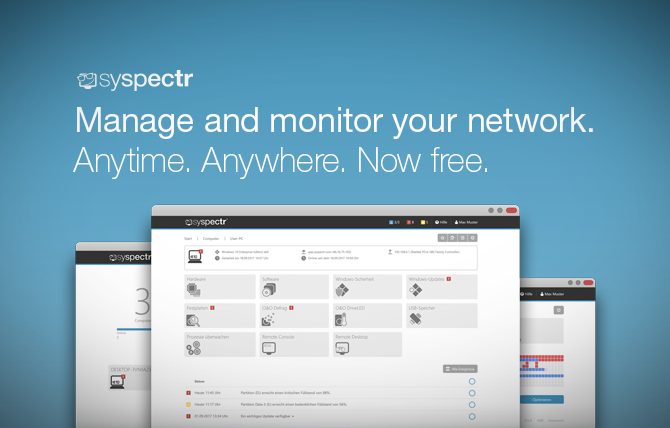 Today we have good news for you: Our IT Management solution O&O Syspectr is now in its full functionality entirely free of charge! It can be used on any number of devices (Windows desktops and servers; Fair Use Policy: if you use O&O Syspectr on more than 10,000 endpoints, please contact us)!
O&O Syspectr is a successful product that we have continuously developed over the past years, and we have received a lot of feedback. We have also heard time and again that both customers and partners would like to use O&O Syspectr, but the costs are too high. Many years ago we decided to provide O&O Syspectr to charitable organizations free of charge. We have now used the knowledge and insights to optimize our running costs for O&O Syspectr in order to make it available to you free of charge.
O&O Syspectr spots IT problems and tells you about them before they hurt. You are not only kept on the ball, but are ahead of the game! You can use it on your cell phone, tablet or desktop. All you need is an internet connection to watch all your systems, in real-time, 24/7, form anywhere in the world.
This is what O&O Syspectr can do for you:
Checks all the important attack points in Windows Security and warns you as soon as a potential problem arises
Lists the available Windows Updates for you and you can decide if and when they should be installed
Protects against data theft: exclude connection of external devices, including smartphones, and be informed should such a device be connected to one of your systems
Automatic inventory at the push of a button, for software AND hardware
Warns of overheating hard disks and machines
Warns that hard disks are about to exceed their storage capacity
It saves you money, travel and time because:
The Remote Console saves you visits to your staff or time-consuming phone support
The Remote Desktop saves you on-site visits to your customers, which will make them happy too!
The PowerShell scripts let you execute scheduled remote commands at the push of a button
You gain customer loyalty through:
Added value by taking care of all PC worries for your customers
Offering post-repair or post-sale support and care
The MSP features, which enable you to create customer accounts and manage their IT concerns – remotely, from wherever you are
O&O Syspectr offers a simple yet powerful user interface that can be used in any browser and on any device. Wherever you are in the world, you have access to this information for your machines and can take corrective action if needed! Try it and see for yourself. It only takes 5 minutes to setup, it's extremely simple to use – and it's now FREE for everyone!