Meltdown And Spectre - The Dangers In Your Computer!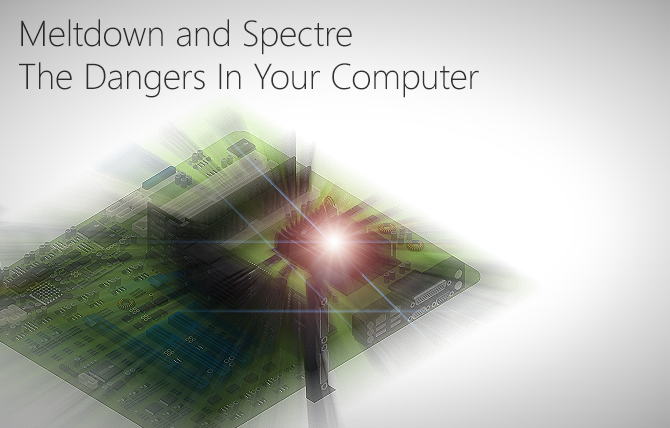 "Spectre and Meltdown" are the names for a series of security vulnerabilities in most current (produced post-1995) processors. These vulnerabilities exist independent of the operating system being used. That means Windows, Linux or Apple computers, as well as smartphones and tablets (for example, Apple, but also the Android family) are all being hit.
What are the dangers?
In a nutshell, the security vulnerabilities allow an attacker, for example, to access any passwords stored in your web browser. All they need to accomplish this is a malicious JavaScript which would be placed within, as an example, an Ad banner on an otherwise completely trustworthy website. In addition, the entire physical memory on your computer can be read out and transmitted to the attacker – including all stored log-in data, passwords, documents, etc.
What do I have to do?
In order to close these security gaps, various components have to be updated. In general, the manufacturer of your computer or motherboard (the motherboard of your computer) will develop an update and make it available for installation, e.g. in the form of BIOS updates. This update is not usually installed automatically! Please therefore contact the manufacturer of your computer and/or motherboard as soon as possible.
In addition, the manufacturer of the operating system (e.g. Microsoft or Apple) will provide an update, which should normally be installed automatically. Important: Please ensure beforehand that automatic updates are also activated in your operating system to accommodate this! You should also be warned that these updates are themselves having significant effects on performance. While tests on some hard disks have shown up to a 10% slowdown, this is even greater for SSDs as they have more contact with the processor. Recent tests by Intel have shown a slowdown in affected systems using SSDs of between 12% and 20%.
Microsoft has also pointed out that under Windows, the manufacturer of your anti-virus software must provide an update, otherwise it may be the case that no more Windows updates can be installed. Most major antivirus vendors have already made such an update available. Please therefore make sure that your antivirus solution is always up to date!
How else can I protect myself?
Owners of computers with certain processors from the manufacturer AMD have pointed out that the current security update from Microsoft has meant that their computer could not be restarted. It is therefore important – regardless of current threats – to always have an up-to-date backup or image of your system with O&O DiskImage 12, and to have the boot medium from O&O DiskImage to hand.
No current Backup?
If you do not have an up-to-date backup and your computer cannot be started, then the new O&O BlueCon 15 is the tool you need to get started again. O&O BlueCon 15 starts directly from a boot medium and immediately has access to various tools that repair systems, find and solve errors, recover data, reset passwords and much more. Disaster recovery doesn't get any easier.
Conclusion:
You do not have to spoil the fun of being on your computer or device, but do bear in mind the security tips above. And above all: make regular backups of your computer. A system image, such as what O&O DiskImage 12 can create for you, is ideal in order to restore your PC to its previous condition.