Got an SSD? Back it up or image it with O&O DiskImage!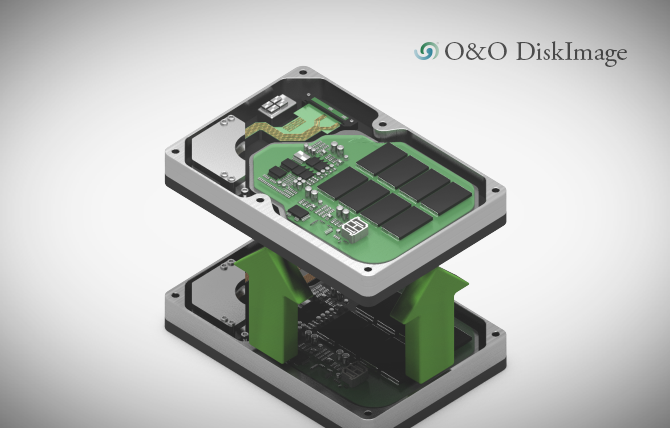 With O&O DiskImage you can make a backup or image of entire computers, single drives or files during running operations. By restoring such an image or backup later, a user has their normal and familiar working environment back again in a short space of time. O&O DiskImage is compatible with both conventional hard disks and SSDs.
If drives (partition/volume) are not created using the proper alignment, it means a loss of performance at each read and write access. In contrast to the usual hard disks, the number of write accesses to a block in SSDs is limited. As a result, there is a risk whenever the alignment is mismatched that more pages have to be written or deleted, than actually available. This in turn can lead to an earlier failure of blocks. Regardless of the construction of a data volume under Windows, O&O DiskImage can backup and image them.
What is the difference between a HDD and SSD?
A hard disk A hard disk consists of one or more circular plates coated with a thin magnetic layer. These plate (s) are attached concentrically on a rotating hub or shaft and always rotate with a constant speed around its own axis. With the help of magnetic heads (read / write heads), which glide on a stable air bubble of about 0.2 micron thickness of these plates, the data is read and written.
In contrast to the hard disk, an SSD consists of semiconductor memory building blocks, it contains no mechanical parts. The smallest unit of an SSD is a page, which is composed of several memory cells, and is usually 4 KB in size. Several pages on the SSD are summarized to a block. A block is the smallest unit of access on a SSD. Currently, 128 pages are mostly combined into one block; therefore, a block contains 512 KB.
How does O&O DiskImage take this into account?
The imaging program O&O DiskImage is compatible with conventional hard disks and SSDs. While cloning and restoring both types of alignment are considered. The program always prioritizes the alignment of the target disk. When restoring or duplicating to a Basic/GPT disk or empty area, the partitions are created according to this prioritization.
If an image from a source partition of a conventional hard disk is restored or cloned on a SSD, the partition on the SSD always will be aligned to the SSD.
What does it cost?
This function is included in the very competitive price of the product O&O DiskImage, from just $29.95 for a full version with no time limits.
Read the free Whitepaper now
In order to make this understandable for you and to enable you to easily apply it in real-life situations, we have written a special Whitepaper entitled "About Solid State Drives (SSD)" which you can read now entirely free of charge.
Test O&O DiskImage free for 30 days
We would be delighted to hear your feedback on O&O DiskImage and this functionality and to answer any questions you may have. Simply send us an email or call us on +49 (30) 991 9162-00. Alternatively, download the free 30-day test version now!